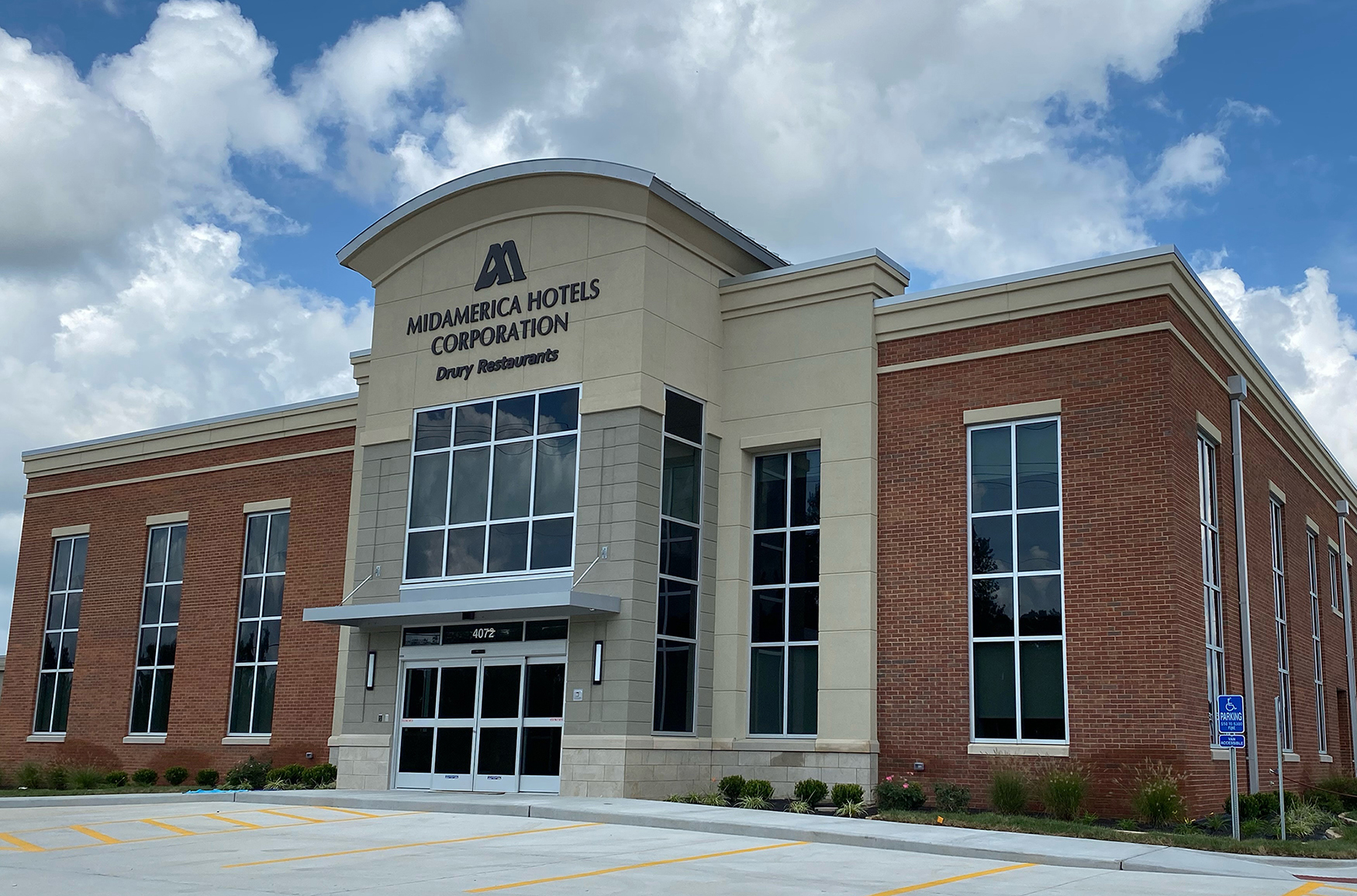 History
Midamerica Hotels Corporation, as we know it today, began in 1976, but its roots can be traced back to the 1940s when family patriarch, Lambert Drury, formed Drury Tile and Plastering Company. Three sons, Charles, Jim and Bob brought their drive, ambition and old-fashioned work ethic into the business during the late 1940s and brother Jerry followed a few years later. Those early dynamic crew specialties included plaster, ceramic tile, marble and terrazzo, along with an extra helping of willpower, hard work, grit and determination.
From that beginning, several companies evolved into Drury Holdings. The first venture into the hotel industry came in 1962 with the opening of the Holiday Inn in Cape Girardeau, a business that was to become a local legend over the next forty years. The years that soon followed brought the Ramada Inn and Burger King systems into the rapidly expanding business and found the company spreading its operations into five states. Recognition and awards, resulting from the intense drive and desire to excel were to soon come from the Holiday Inn and Ramada Inn systems. Subsequently, Drury Inn followed with the operational concept founded upon the principles of quality construction, an affordable pricing structure to the guests, and relative simplicity of operations. The Corporation evolved into a group that had become known as Drury Industries, Inc. by 1974.
The various properties of the young Drury Industries empire were divided when Jim Drury, with a new vision, began a new chapter in 1976, and cultivated what was to become Midamerica Hotels Corporation. His assets included the Holiday Inn Cape Girardeau, the Ramada Inn Sikeston, the Drury Lodge of Springfield, Missouri, the Best Western Inn St. Louis and Burger Kings located in Cape Girardeau, MO; Sikeston, MO; Bowling Green, KY; Carbondale, IL and Jonesboro, AR.
As CEO of Midamerica Hotels Corporation, Jim retained several employees from the Drury Industries group. After substantial expansion and renovation, and many additions over the years in staff and personnel, Midamerica Hotels Corporation still resides in the same corporate office building in Cape Girardeau that it first moved into in 1976. Jim's children continue his legacy, with son, Daniel serving as President; son, John managing all construction; daughter, Diane Drury Janet is responsible for real estate development, and son, Ken sits on the Board of Directors as well. The family business also includes the third generation, the grandchildren of Jim and Wanda Drury.
Our Properties
Our Vision
To be grounded in faith with an unprecedented focus on developing pride and service in our team members so they can practice hospitality in everything they do. Serving each guest and team member as they are part of our extended family and exceed every expectation.